Foundation
Foundation Introduction
The world develops through communication and exchange, and the development of information technology is raising expectations for blockchain. ROM_COIN pays attention to the problems of high fees and currency fluctuations, and considers the logistics distribution/tourism industry to be a favorable field for the application of blockchain. In the traditional market, there are problems with low-priced goods and wasted time and funds, and there are safety concerns due to the increase in FIT (personal logistics distribution/tourism) and the difficulty of personal travel due to cultural and language differences. ROM_COIN fills these gaps and provides a personalized information and low-cost payment integration solution to boost local commerce. Pando Tree Pte.Ltd. is a foundation established in Singapore by a group of logistics, distribution, and blockchain experts to provide guidelines for effective and efficient logistics distribution/tourism through ROM_COIN.
Main Platform for Achieving Goal
In order to carry out various businesses using ROM COIN, a platform is essential.We call this platform 'RoM Platform', and this platform is not only mining or P2P exchange related to virtual currency, but also Pay System related to payment / remittance,It is involved in international trade and is also associated with various memberships that can be used for travel.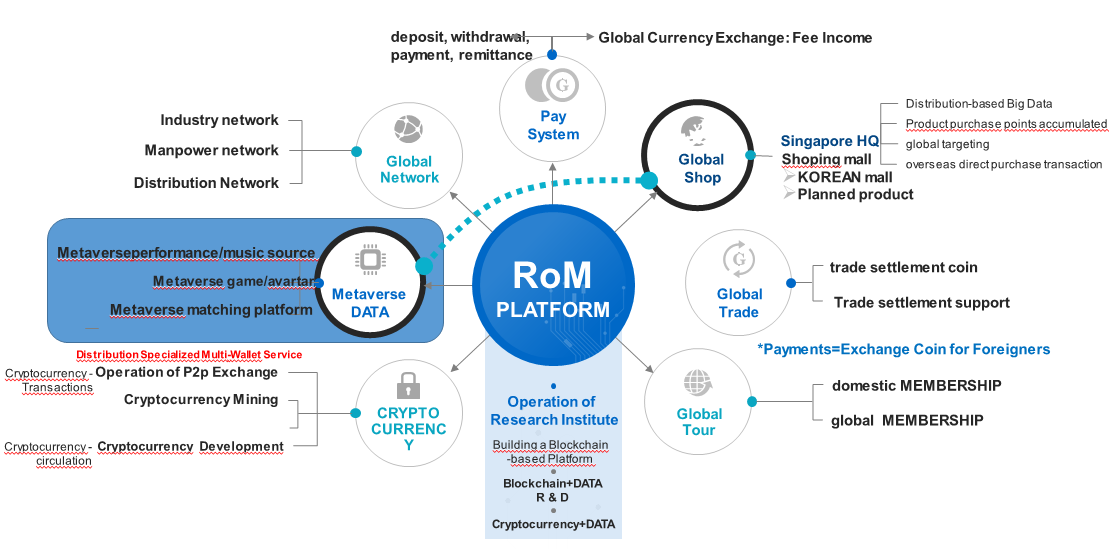 Global Distribution Membership
The usage of ROM_COIN can be expanded through authentication and payment services. The ecosystem can be developed by offering membership benefits or rewards through tokens, thereby creating a ROM_COIN ecosystem. Additionally, rewards and benefits can be provided for operating ROM_COIN nodes, contributing to the expansion of infrastructure..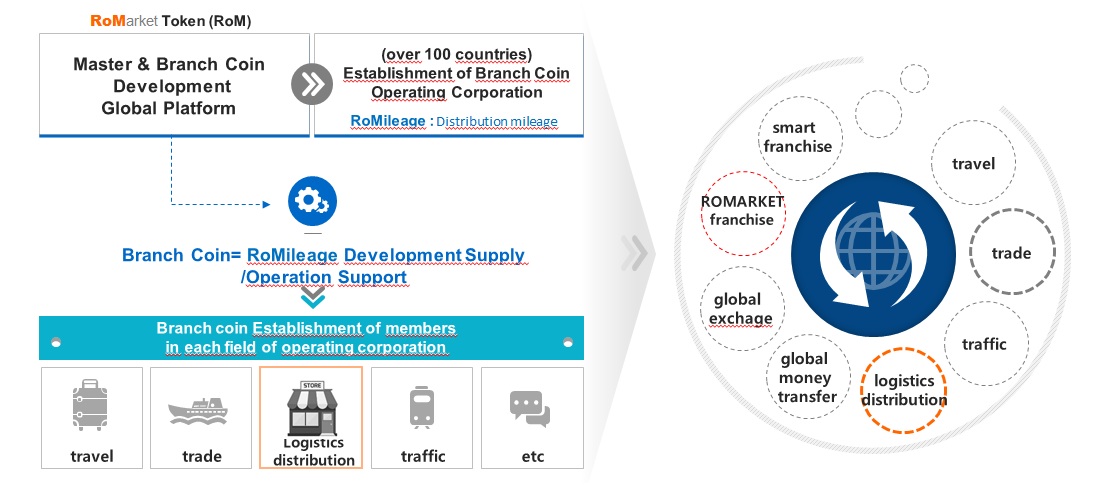 RoM coin Characteristics of Business Structure
ROM_COIN is designed to be used in various places. It can be used not only for mobile shopping malls, but also for wholesale systems and various payment systems.
Integration of payment system through cryptocurrency reduces distribution financial costs and establishes innovative distribution structures.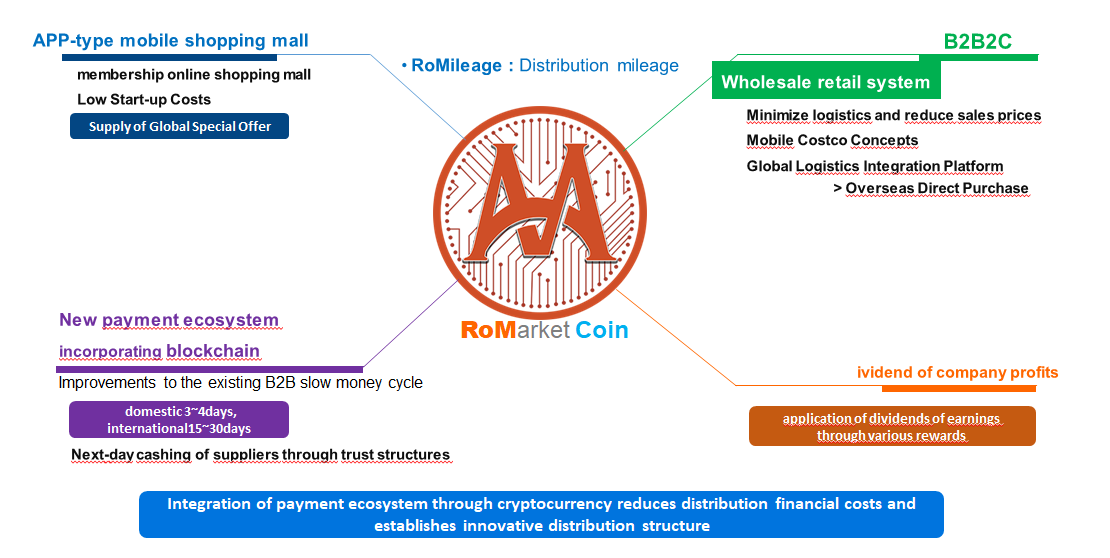 ROM_COIN paid attention to the fact that different currency methods exist in each country and that high fees and exchange losses occur due to frequently changing exchange rates. In particular, the logistics/distribution/tourism industry has momentum for steady development, so it is an advantageous industry when combined with blockchain.
Along with the development of the world economy, demand for logistics distribution/tourism (travel) is increasing day by day, but the traditional logistics/distribution/tourism (travel) market has lost its meaning and distorted its essence due to commercial purposes. Waste of time and money is frequently occurring. So, although FIT (individual logistics/tourism) is gradually increasing, it is difficult to do logistics/distribution/tourism (travel) alone in an environment with different cultures and languages, and there are concerns about safety.
In addition, each country has its own local market, but due to the weakness of information and related surrounding information, many efforts are made to revitalize the local commercial district, but it is difficult to actually create a link, and the provision of basic information is also limited by the region. The purpose of ROM_COIN is to compensate for these vulnerabilities and to provide a payment integration solution that can be used in any country with a more personalized, affordable information and life-friendly system through local infrastructure..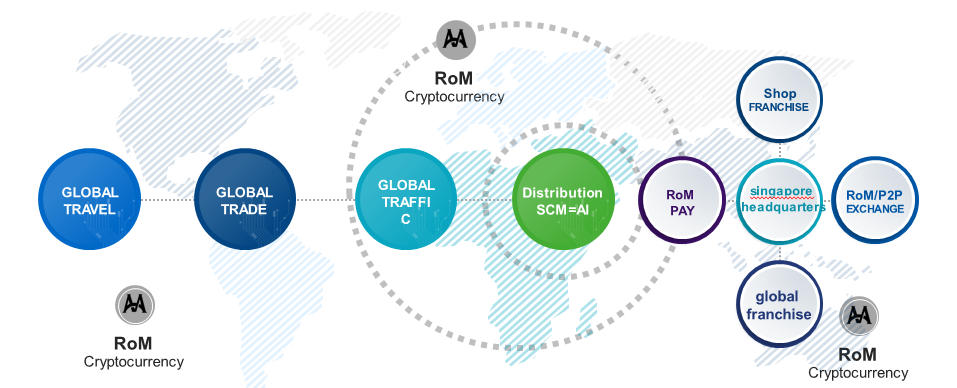 Travel & K-Market(K-food)
No matter which country you go to, if there is a service that reflects individual preferences and supports personalized management, logistics/distribution/tourism (travel) will be more comfortable and safe.
Accordingly, effective and efficient logistics distribution/tourism (travel) is provided by providing personalized logistics information by storing and organizing a human resource pool composed of experts in each field headquartered in Singapore and individuals' unique logistics distribution/tourism (travel) habits. It is the ROM_COIN (logistics+Travel + Shopping) token that can provide the guidelines for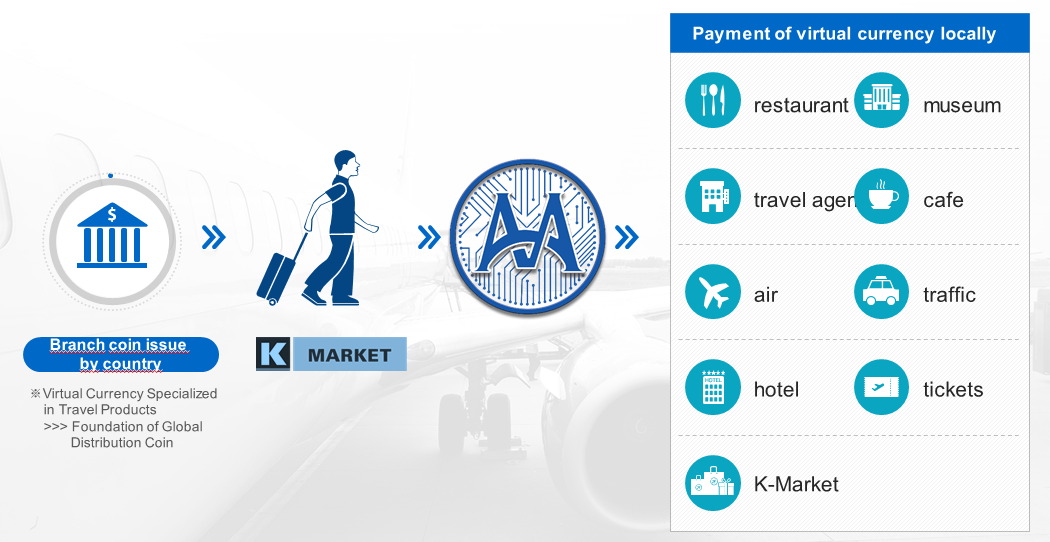 Instant currency optimized for each country's environment, anytime, anywhere through the app
The most convenient global currency exchange system, a free concept of remittance system
Trade & Blockchain Expert Group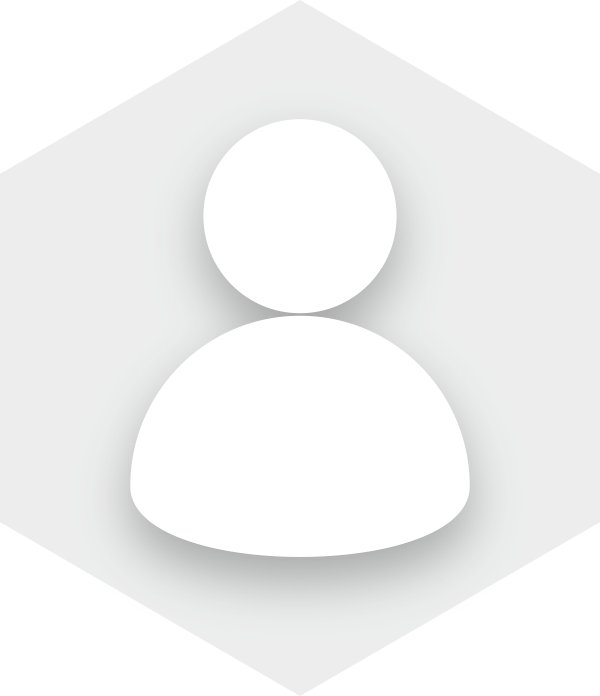 Pando Tree LIMITED
Global Trade Expert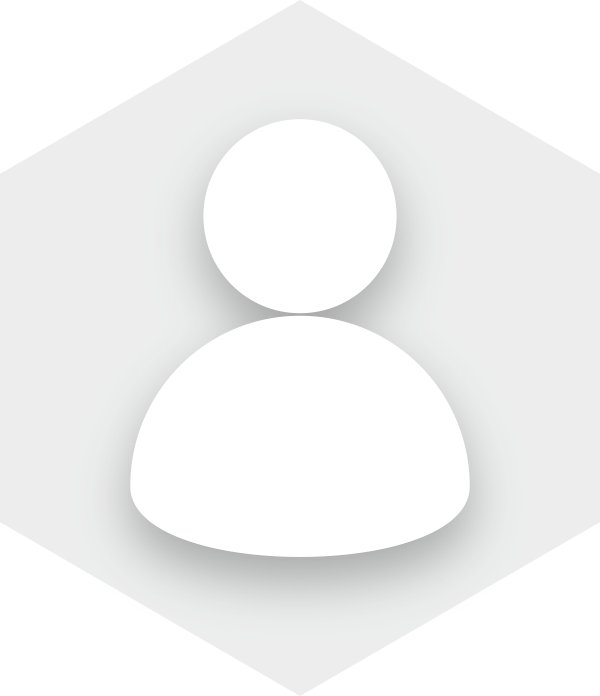 Pando Tree LIMITED, CEO of ROMARKET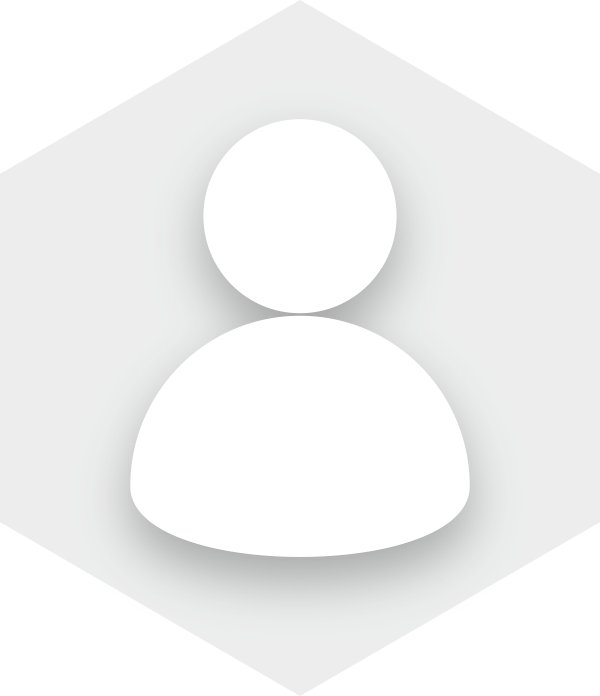 Pando Tree LIMITED, VICE CHAIRMAN of INDEOK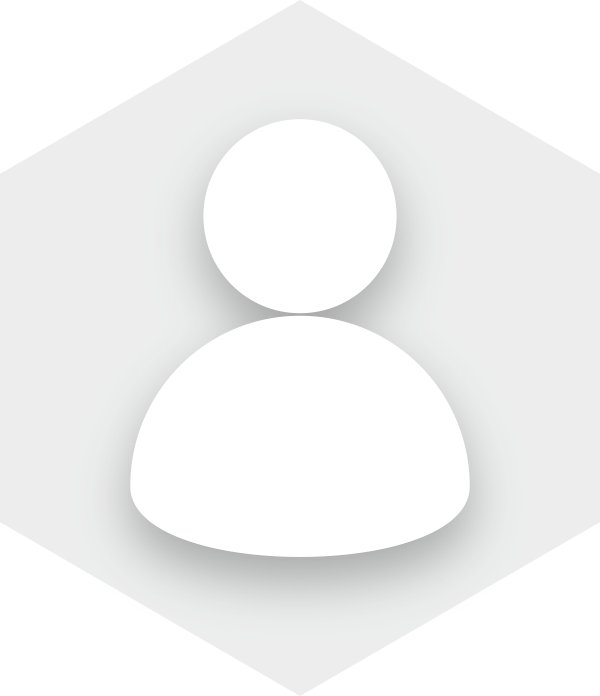 Former CHIEF of ECONOMY DIVISION SUWON PROSECUTORS'